Smart Report Maker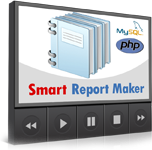 The Best PHP Report Maker
If you are looking for a solution to compile and manage an unlimited number of MySQL reports based on tables and/or queries then Smart Report Maker is the tool just for you. It's a quick and easy PHP MySQL report generator that gives you the ability to prepare the reports that you need at the click of a button.

Mobile friendly version
Access your MySQL reports directly from your mobile device with no additional effort. Smart Report Maker now has an Optimized version for iPhone/iPod touch and Android devices, it makes your reports go mobile.

Advanced search options
It has a friendly wizard style user interface

Create MySQL reports instantly
It has a friendly wizard style user interface that allows you to select only the tables and fields which you need for your MySQL report, sort the data in your preferred order of ascending or descending, set multiple group levels, define table relationships to create reports based on multiple tables.

Export data to PDF,CSV and XML
You can export reports as CSV, PDF or XML files. With these prepared reports, you can even send them to your email address from the software itself

Completely interactive and dynamic
The generated PHP reports that you create are displayed not only in your web browser, but you can also save a copy of the report on your web server. With this, you can create links and bookmarks so you can keep and easily access the reports for future reference. And that's not all... whenever your database has been updated with any new records, the generated reports will automatically update themselves.

Select your desired layout
Generated reports will never look tacky and ugly. In fact, they are fully customizable through the software. When generating your report, you can select your desired layout and change it at any given time.

Works with any version of PHP and MySQL
Generate a report based on a MySQL table, view or query
Generate a report based on multiple tables
Ability to password protect the generated MySQL reports
Login System for your members!
Ability to define table relationships visually
Easy to use wizard style interface
Create and manage unlimited number of MySQL reports
Export report data as PDF, XML and CSV files
Select certain table fields or Query result
Ability to save generated reports
Multiple grouping levels
Sort data in the report according to any column
Ability to select report layout
Select report style
Customize headers and footers
Record Navigation for long reports
Ability to print certain page or all pages
Ability to export certain page all pages
No setup hassles
Using Joomla, WordPress, or another CMS? Smart Report Maker blends seamlessly.
Smart Chart Maker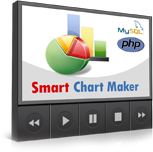 Do You Want a Professional Chart Maker?
Smart Chart Maker is very similar to Smart Report Maker in terms of usability and functionality.As previously noted, Smart Chart Maker is far by the best solution to generating and managing an unlimited amount of dynamic charts that are fed directly from a MySQL database and situated around the tables and/or queries.

Generate Dynamic Charts
One of the key features of Smart Chart Maker is that it's completely dynamic on any webpage that you integrate the generated charts on to so this means that each time the page is refreshed, so is the chart data. Smart Chart Maker is that easy to use that even the non-web-savvy person can use it.

Extensive Chart Types
The styling control doesn't just stop there. Oh no! Did you know that with Smart Chart Maker you can even choose which type of graph you would like to generate? For example, line, bar, pie and multiple series charts are all available for you to work from.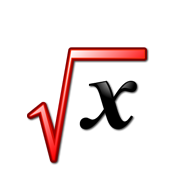 Aggregation functions support
With Smart Chart Maker you can easily make use of the MySQL aggregation functions to control how data is displayed and used within you chart.Such functions include the likes of SUM, AVG, MIN, MAX and COUNT.

Very easy to use
The software has an easy to use wizard style interface that will allow you to choose only the tables and data that you require for your chart. That's not all as you can even define table relationships, select chart types and styles, define data filters and of course define the exact data from the tables that you want to include in the chart that you are generating.

Advanced customization options
With the added help of Smart Chart Maker on your web server, there is so much that you can do. By far, Smart chart Maker is the best chart generating software available to date. You don't just create simple charts;you can fully customize them too. For example, never should you charts look ugly on your website. In fact, they should of course be the complete opposite of ugly which is why we have integrated the chart customization feature. You can change the look of your charts, use your preferred colors, text, labels and titles whenever you like. This helps you make charts that blend in with the rest of your website.

Create 2D and 3D charts
you can either use 3D charts or stay simple yet elegant with the 2D charts.

Multiple series support
With this feature an arbitrary number of Y-axis can be added to the right end of the graph.

Create MySQL charts instantly
The good thing here is that you don't even really need knowledge of MySQL to do this as it's all there within the wizard style interface. You can also visually define table relationships through the wizard and even filter data how you would like it (i.e. greater than, less than and equal to).

completely dynamic
One of the key features of Smart Chart Maker is that it's completely dynamic on any webpage that you integrate the generated charts on to so this means that each time the page is refreshed, so is the chart data.
Embed MySQL charts easily into your Web app

Embed chart in Blog or website by just copy &pasting HTML code.
PHP MYSQL Form Maker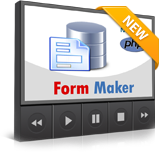 Watch Video Tour
Do You Want a Professional Form Maker?
Have you been looking for the ideal solution for generating web forms for your MySQL database? Well, look no further as the PHP MySQL Form Maker is the best option to go for!
No programming required!

The edge that this program has over others is its easy user interface that is based on a wizard format. It is so easy to use that a person without a technical background will find that they are able to generate forms in a matter of minutes. It provides you with the selection flexibility to create a form to insert, update, delete or list records to give you a clean web interface.
Insert, Update, Delete records

Come up with forms to insert records exclusively, and apply it on your website to enable the users to save records on your database. These actions can be done simultaneously, thus saving you the monotonous steps of keying in records one step at a time. Going into this particular phase in more detail, you could have the columns of your database rendered into a form element which go into their respective fields on data selections. Take a column with a date data type as an example;it would be changed into a calendar format using our form maker. In the same manner, an ENUM will be converted to that of a drop down list, and the list goes on.

Power validation
Our PHP MySQL Form Maker even gives you the authority to enforce validation rules which are based on your column data type. For example, if you have a numerical field in your column, you can opt to enforce a rule among your users whereby the numerical value keyed in has to fall within a specific range in the text box;a range which is provided by you. If this is not followed, the form will not be submitted successfully by the user. The form maker is equipped with an advanced range of validation techniques, giving you the control to set required fields as well as custom error message prompts.

Works with any version of PHP
Going into the technical advantages of our PHP MySQL Form Maker, you will be happy to hear that our form maker works well with all versions of PHP as well as MySQL. It handles foreign keys in a very simplified manner.

Advanced customization options
You could even rename the form fields on your respective form, apart from customizing the theme and layout appearance. Record navigation is also relatively easy, and you will find that you can also create forms using different layouts, examples of which include datasheet, columnar and justified forms. Should you have the need to add customized footers and headers, you can do so using our PHP MySQL Form Maker.

Ajax-based functionality
One of the added features that provide us with a competitive edge is the fact that our PHP MySQL Form Maker enforces AJAX technology, which allows you to submit your form completely without having to refresh your page. Our clients find that this not only saves time, but also improves the performance of the website. We take pride in informing our customers that we do not charge them subscription fees monthly, so you just need to pay us once to use the PHP MySQL Form Maker permanently. It will run on your own server, and should you need assistance at any point of time, we also have an engaging team of support service to provide you with the help you need.