Smart Form Maker version 3.1.0 has been released!
We are extremely excited and proud to present the latest version of Smart Form Maker . The new version employs several newly released PHP functions, which are designed to offer more robust, and stable security measures within the software. Additionally, Smart Form Maker 3.1 comes with many advanced features to help you generate professional forms from your MySQL database.
New features of Smart Form Maker 3.1: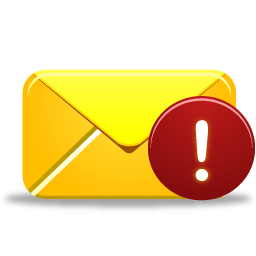 Ability to send email notifications (Form To Email)
The new version of Smart Form Maker allows you to receive email notifications whenever someone inserts, searches, updates, or even deletes records using your form . The email message will include the submitted data.
Once the feature is enabled, you will have the ability to :
Add the email address to which the notifications should be sent.
Select what actions you want to be notified of when they occur. For example, you might want to receive email notification when someone inserts a new record through your form along with the inserted data.

  Change the style of the generated forms
Smart Form Maker 3.1 allows your users to change the style of the forms by selecting the desired styles from the styles menu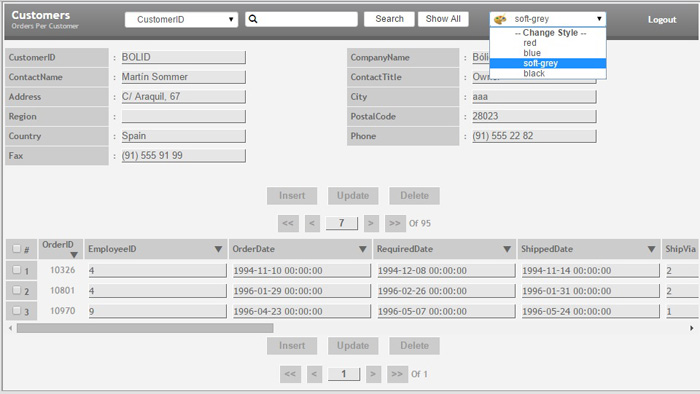 Search and sort records in the generated Forms
You can search and sort your forms by any column.
The search feature will be disabled if the selected form action is to insert new records only.


Password protect generated forms
With Smart Form Maker, prevention of unauthorized access to your forms is accomplished by checking the "Allow security" option and then adding a username and password for your form.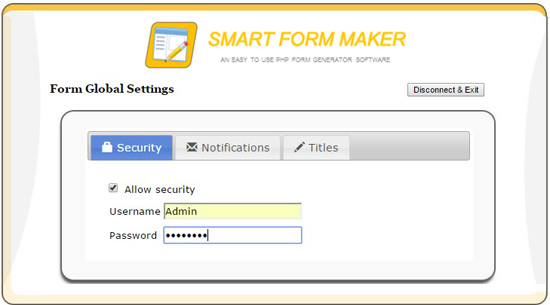 We listen very carefully to the feedback of our customers do If you have an opinion or a  new features that you want to see in our next version please contact us  here
Related Links :
Smart Form Maker home page
Guided tour of Smart Form Maker
Online demo version of Smart Form Maker